Helen Maugham (3rd from the right) with her crew at YMCA Acacia Ridge Gymnastics during 2022 Christmas celebration
As a child, Helen Maugham would play in a small park in Acacia Ridge, enjoying the two swings and a slide. Years later, she would manage the popular gymnastics centre built on that very site.
Helen has dedicated her life to supporting the Acacia Ridge community, and is this year celebrating the momentous milestone of working at YMCA Acacia Ridge for 20 years.
Now the manager of YMCA Acacia Ridge Gymnastics, Helen reflects back on the ties she's always felt to the region and the Y.
"I was born and raised a few houses up from my Acacia Ridge Centre," Helen said.
"As a late teen, I would go with a group of friends into the YMCA in the city to use the latest fad of a sauna followed by a cold shower.
"The YMCA Acacia Ridge was built in 1977, and in my early twenties I attended Jazz ballet classes at the centre.
"Never in my wildest dreams while I was taking a class that in 30 years' time I would eventually be the Manager of the centre."
Memories over milestones
While 20 years of service is a major milestone, Helen's greatest achievement is the long-lasting impact she has made on thousands of families.
Under Helen's leadership, the number of children coming to YMCA Acacia Ridge every year to experience the sport of gymnastics has grown from 180 children to 650 children.
"We put a lot of attention on the individual – they're not just someone who pays their money to come here, it's very much about each child and what they're like and how we can do the best for them," Helen said.
"I sit with the parents and I talk to them and ask them how they're going. Very much finding out about what's going on in their lives.
"As soon as we hear someone's in trouble, we do what we can do to support them and help them."
From organising food parcels for struggling families to making sure there are colouring pencils for young children to enjoy when coming to watch their siblings practise gymnastics, Helen considers the Acacia Ridge community her family.
Friendships that span a lifetime
Just as Helen cares about her community, her community loves coming to YMCA Acacia Ridge.
Caitlin Turnbull, a past YMCA gymnast and now YMCA coach, said Helen has had a profound impact on her life.
"I did KinderGym with her when I was four or five," Caitlin said.
"She's just a positive role model; we all look up to her. She's kind of like my second Mum."
Another past student turned coach, Hannah Hodgson, who has known Helen since she was nine, said Helen is a highly respected and loved leader.
"She's my boss and I understand that and I have the utmost respect for all her decisions… But she is very much so a friend," Hannah said.
"She's really empowering of us and wants us to work hard, achieve our goals and definitely find our place in the world."
Hannah starting training to be a coach when she was still in high school, and several years later she is now an Advanced Coach and Gymnastics Coordinator.
"They very much helped us get our coursework done. They found the time to help us through it, understand it, actually build our skills so we had technical knowledge and skills knowledge," Hannah said.
Helen has always been a trailblazer in supporting young gymnasts to pursue their goals and gain their coaching and judging qualifications in gymnastics. Having always paid for her older gymnasts to gain their coaching qualifications, her model of sponsoring students to gain their coaching accreditation inspired the Y to establish the YMCA Gymnastics Junior Coach Development Program.
The program pays for young people age 14-19 to gain their Gymnastics Australia coaching qualification at any YMCA Gymnastic Centre in Queensland.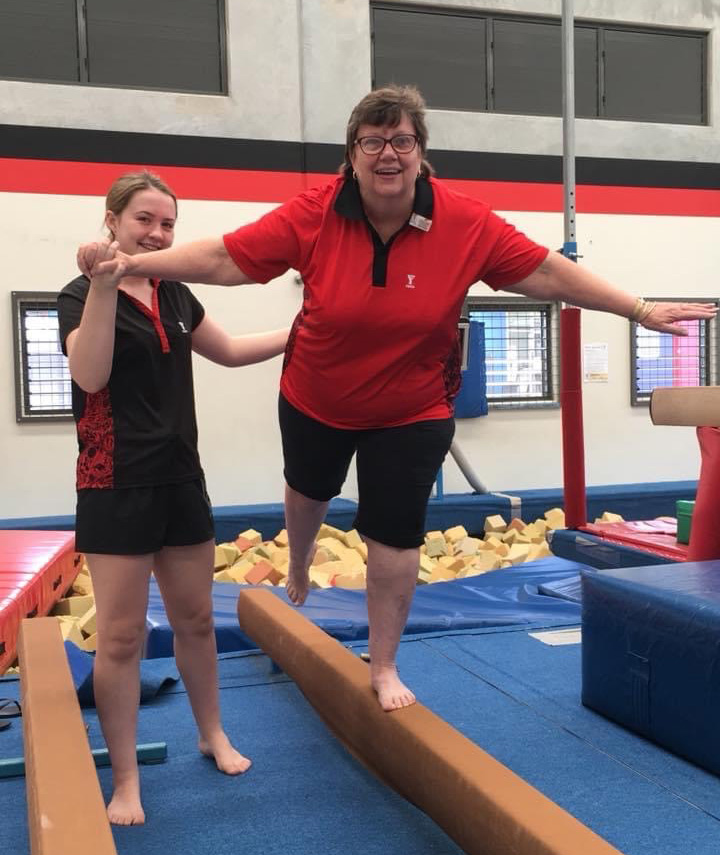 Helen (right) with a young gymnastic coach
What's next?
Despite recently having knee surgery and being unable to teach classes on the floor, Helen has no plans of retiring anytime soon.
"A few people have asked me 'why don't I retire after this?', but it's the joy of being here with these guys, watching the children, the centre," Helen said.
"There's only one way to make a centre successful and you have to think of it as your own… It's home."
Congratulations on 20 years at YMCA Acacia Ridge, Helen!
---
Latest Articles